Etiquette experts will say you should never attend a party or get together empty-handed. But this advice doesn't help when you're standing in the middle of a store, struggling to find the perfect host gift. Bringing a bottle of wine feels predictable, but picking out something random might just end up in their re-gift pile. (And we've all been recipients of that candle.) As the holiday season approaches, we've done the work for you and rounded up unique host gifts that won't break the bank or end up in the storage closet. 
Gifts Under $10
After Dinner Amusements: Do You Remember?
The post-dinner slump is real. Help a host bring the energy back by gifting them with this thought-starter game. (Because who doesn't want to make people laugh with the story of their first kiss?) This fun conversation game is also a great stocking stuffer.
Family Feud Survey Says Jumbo Card Edition Game
If someone doesn't like Family Feud, we don't want to be friends with them. These cards will liven up any party, and everyone can play. There's also an app that has sound effects straight from the show to make it feel like you're really immersed in Steve Harvey's world.
Record Coasters
These vinyl record coasters are the perfect gift for music lovers. Not only are they a great conversation starter, but gifting someone coasters also shows you care about protecting their furniture.
Gifts Under $20
3-in-1 Stainless Steel Wine Bottle Cooler
Instead of bringing wine, wow your host with a wine accessory. This steel wine chiller quickly cools down a bottle of wine without diluting it. It also has a built-in aerator to enhance the flavor of even the cheapest blend.
Beautiful Boards: 50 Amazing Snack Boards for Any Occasion
Snack boards are all the rage. This book has family-friendly recipes for boards of all kinds, from pancakes to dim sum. As a bonus, you'll hint to the host that you want to come back to check out one of their creations.
Shower Steamers Aromatherapy
Thank your host by reminding them to take a relaxing shower after the party. These essential oil steamers come in six calming and mood-lifting scents.
Gifts Under $30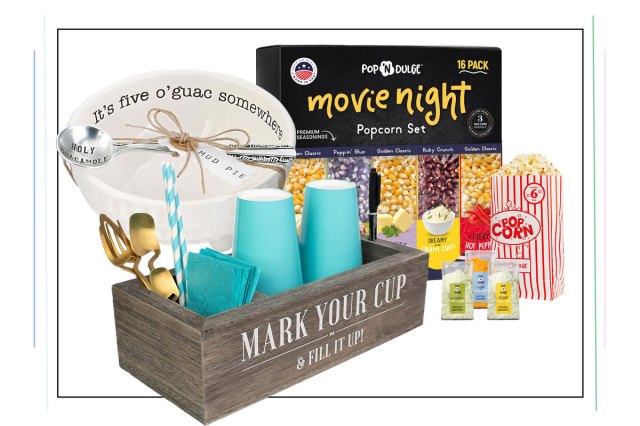 Popcorn Movie Night Supplies
Whether hosting friends or curling up on the couch alone, who doesn't love movie night? Help your host take theirs to the next level with this popcorn kit that has three different styles of kernels, five different spices, and, of course, red-and-white striped popcorn bags.
Double Solo Cup Holder
There is nothing worse than a misplaced cup at a party. Help your host by gifting this cup holder that encourages guests to write their name on a cup when they get their first drink.
Guacamole Serving Dish
No gathering is complete without guacamole. This cheeky bowl is a reminder that guacamole is always a good idea. Impress your host by also bringing the ingredients for your favorite guac recipe.
Gifts Under $40
Telestrations
This game is beloved for a reason. Telestrations is one big game of telephone but with sketching, perfect for any game night. There is also an "after dark" version for adult-only parties.
A Real Piece of Land
This host gift is equally as thoughtful as impressive. Your host will be issued a deed to a 100-square-inch piece of land in your chosen country (or state). Encourage them to visit one day — and bring you along.
BillionDollarArtGallery®
Help your host set the mood by turning their TV into an art gallery. Simply plug this USB drive into a TV to display 500 iconic paintings, including Van Gogh's "The Starry Night" and Rembrandt's "The Night Watch."
Gifts Under $50
Whiskey Smoker Kit
Aspiring mixologists will appreciate this cocktail smoker kit. It comes with a hand torch, tongs, whiskey rocks, a wooden smoke top, and four wood chip flavors. Level this gift up by bringing the ingredients for a smoked cocktail.
Gourmet Truffle Box Gift Set
Your truffle-loving host will be drenched in luxury after you gift them with this set that includes black truffle extra virgin olive oil, truffle sauce, truffle honey, and black truffle salt. *Chef's Kiss*
Kitchen Knife Set
If one thing's for sure — you can never have too many knives. These fun stainless steel knives have a rainbow titanium coating that will stand out in any kitchen.
Prices are accurate as of October 16, 2023. Subject to change.
All featured products and deals are selected independently and objectively by the author. Better Report may receive a share of sales via affiliate links in content.
Featured Image Credit: Superkitina/ Unsplash